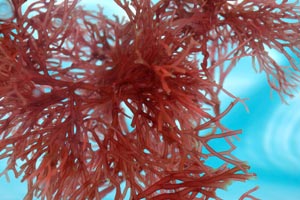 Agar Agar Supplier
Gelidium, Gracilaria, Bacteriological, Quick Soluble, Dental Grade, Instant, NF, FCC
CAS# 9002-18-0
Agar is a complex polysaccharide extracted from Red Seaweed of the class Rhodophyceae. The seaweed is typically harvested by hand along coastlines and allowed to sun dry after gathering. The seaweed is then processed by hot water extraction, filtration and freezing. Based on desired level of purity additional steps may involve bleaching or chemical treatment, additional extraction, filtration, gelation, freezing and thawing. The final step in the process is drying and milling to specifications to produce the commercial grade of powdered Agar commonly used today.
Known for its ability to form a firm thermo-reversible gel, one of the unique aspects of Agar is the temperature difference between its gelation point and melting point. This stability can be utilized in many applications. When added to sugar glazes for doughnuts and pastries, its ability to increase the viscosity of the glaze and thus increase adherence of that glaze to the product, has brought about its wide acceptance in this application. With the addition of Agar, quicker setting time and flexibility is also achieved with a reduction in glaze chipping and cracking. Agar agar is also used in non-starch breads and desserts as a non-nutritive bulking agent to produce low-calorie products. Aside from food applications, Agar is also used as a suspending agent in the pharmaceutical industry as well as for impression material in the field of dentistry. Agars low gelling temperature, high gel strength and resiliency make it useful in a variety of applications.
AEP Colloids is one of the leading agar agar suppliers and distributors in the industry. To order agar agar today, give us a call at 1-800-848-0658!
Request a Quote - Agar Agar
Types: Gelidium, Gracilaria
Appearance: Off white to light tan powder
Solubility: requires heating to 100°C
Gelation Temperature: 32 – 40°C
Gel Strength: 600 gm/cm2 Minimum
pH: 5.5 – 8.5
pH Stability Range: 4.5 – 9.0
View SDS »